"...they each signed the Roll of Lawyers to make their Call official."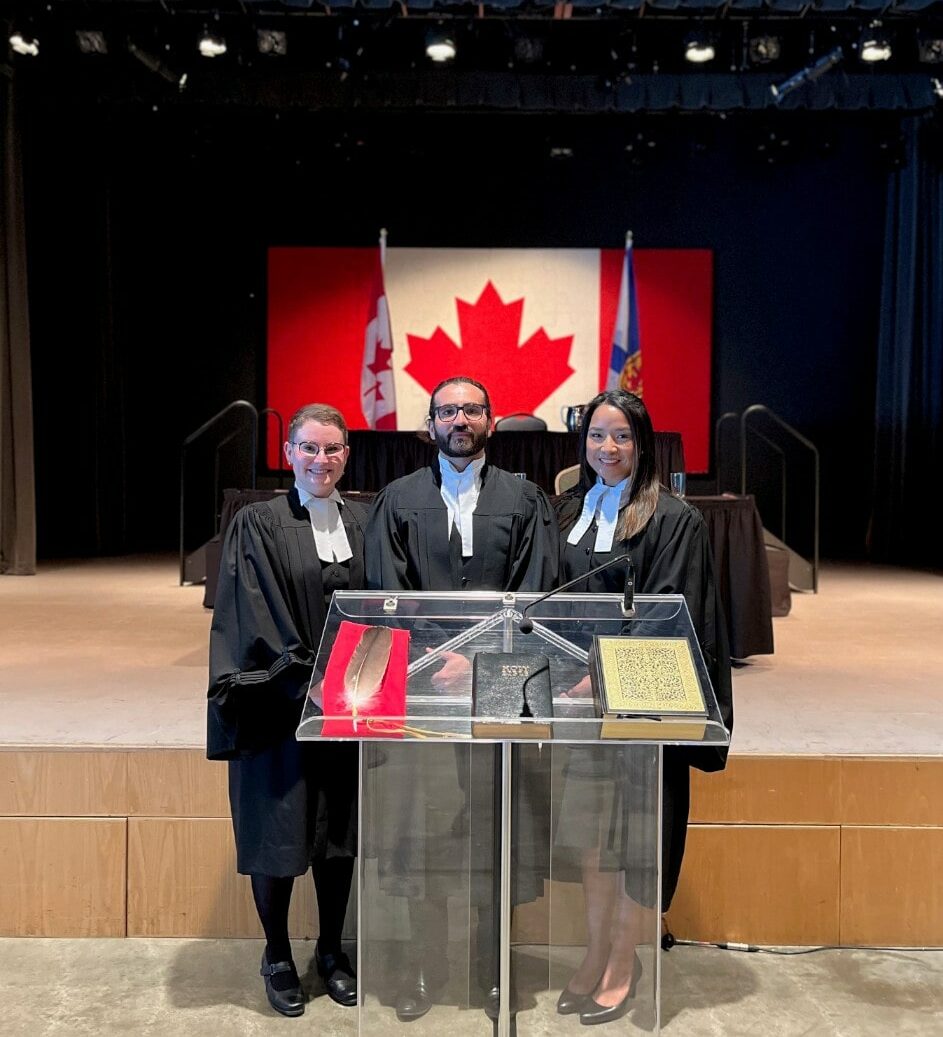 Three articled clerks of MacGillivray Law were called to the Nova Scotia bar on June 16, 2023 during a ceremony held in Kenneth Rowe Hall at Pier 21 in Halifax, Nova Scotia. Aqeel Yousafzai, Czerianne Nocon-Mantolino, and Jamie Samson completed their articles over the past calendar year while being mentored by senior lawyers at the firm. The three also completed all aspects of the Nova Scotia Barrister's Society's (NSBS) requirements to become full-fledged lawyers, including participating in the P.R.E.P. course administered by the Canadian Centre for Professional Legal Education, which replaced the bar examination in 2021.
Aqeel received his Bachelor of Arts and Bachelor of Laws (Honours) from Lahore University of Management Sciences in Lahore, Pakistan in 2016 and his Master of Laws in Human Rights degree from Central European University in Budapest, Hungary in 2018. He was called to the Lahore Bar Council in 2016. He was employed by Justice Project Pakistan where he worked on criminal, constitutional, and human rights cases.
Czeri received her Bachelor of Arts from Saint Mary's University in Halifax, Nova Scotia in 2012. Shortly after, she joined our firm as a paralegal and worked for many years with Janus Siebrits. Czeri then decided to pursue a law degree, and received her Bachelor of Laws (Honours) from the University of Kent in Canterbury, U.K. in 2021. She articled with Nicolle A. Snow.
Jamie received her Bachelor of Arts degree in Philosophy from St. Francis Xavier University in Antigonish, Nova Scotia, in 2019. She received her Juris Doctor degree from Dalhousie's Schulich School of Law in Halifax, Nova Scotia in 2022, and articled with Chad Horton.
All three will be continuing with the firm as our newest associate lawyers.
Family members, friends, and Nova Scotia Barristers' Society employees and members attended the ceremony on Friday, with the Honourable Justice Scott C. Norton presiding. The presiding officers Melanie Petrunia, past president of NSBS, and Mark Scott, K.C., current president of NSBS, presented the candidates for admission to Justice Norton, who granted the orders for them to join the bar society. Each candidate took the Oath of Admission and signed the Roll of Lawyers to make their Call official. 63 candidates were admitted to the bar society and are now fully qualified lawyers in the Province of Nova Scotia.
Congratulations to all the new lawyers in the province!
Request a
Free Consultation
MacGillivray Law is a personal injury law firm with offices in Nova Scotia, New Brunswick, and Newfoundland and Labrador. We serve clients all across Canada.
If you cannot travel to one of our offices, we will accommodate your circumstances and travel needs. We can provide a consultation by phone, Zoom, or FaceTime, or travel to meet you in your home when required.
If you would like to learn your legal options at no obligation, contact us today to set up a free consultation.