Awards & recognition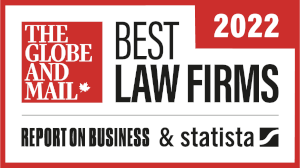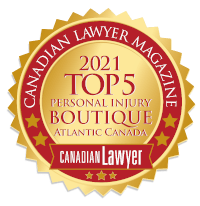 A lawyer can help you appeal denied CPP disability benefits
Canada Pension Plan disability benefits are designed by the government to provide partial income replacement to eligible CPP contributors who are below the age of 65 and who have a severe and prolonged disability. These benefits are different from the benefits you might receive under a private insurance plan. Applying for CPP disability benefits is a lengthy and complex process. Our lawyers can help you navigate the process in the event of a denial.
The stages of a CPP disability application will vary based on the case. However, we've created a helpful chart to guide you through the application and appeals processes. A lawyer can help if you've been denied at any stage in this process.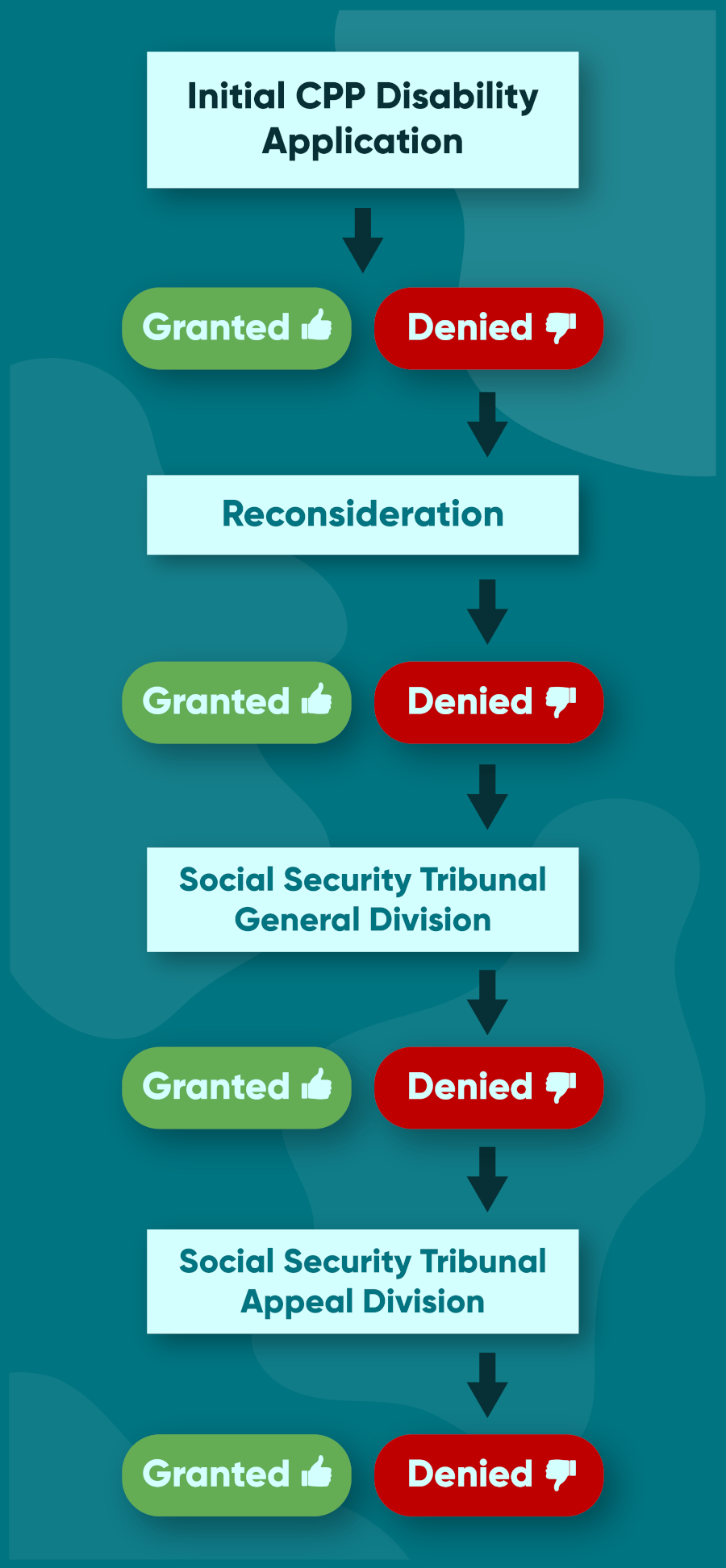 Who is eligible for disability benefits?
Canada Pension Plan disability benefits provide income replacement for those who
Are below age 65;
Have met the minimum CPP contribution requirement;
Have a severe mental or physical disability that prevents them from doing any type of substantially gainful work*; and
That disability is long-term and indefinite, or likely to result in death.
* Substantially gainful work is a job that pays an amount greater than or equal to the maximum annual amount a person could receive as a disability pension. This amount in 2022 is $17,489.40 (pre-tax).
There are two types of CPP disability benefits:
The disability pension
The post-retirement disability benefit
The disability pension is available to those who are not yet retired and receiving a pension. The post-retirement disability benefit is for individuals who become disabled after they retire and start their retirement pension. CPP disability benefits can supplement long-term disability (LTD) benefits paid out by a private insurance plan. However, most LTD plans offset CPP disability by reducing their payment dollar for dollar.
If your medical condition is expected to be short-term, temporary, or not meet the above requirements, you may be eligible for Employment Insurance sickness benefits instead.
What contributions make me eligible for CPP disability benefits?
To be eligible for the Canada Pension Plan disability benefit, you must have contributed to CPP for the Minimum Qualifying Period (MQP). This period is four of the last six years, or three of the last six years if you have paid into CPP for at least 25 years. The MQP is expressed as a date, which is typically December 31st of the last year that you met the MQP criteria. The amount of the benefit is based on how much was contributed. Your denial letter will say whether you have made enough contributions or not. It is helpful to have this information available when consulting a lawyer, as it can make a big difference on how your case turns out. Your disability must be deemed to have been severe and prolonged prior to the date of your MQP.
There are a few exceptions to the minimum requirements. For example, those who were out of the workforce to raise children as well as those unable to apply due to physical or mental disability may still be eligible.
For a more in information on eligibility, see Canada Pension Plan Disability Benefit – Eligibility on the Government of Canada website.
How much in benefits will I receive?
For 2022, the minimum monthly benefit payment is $524.64. The maximum monthly benefit payment is $1457.45. The average monthly amount is $1,064.80, and the specific amount of your benefit depends on how much you contributed. See Canada Pension Plan Disability Benefit – How much could you receive at the Government of Canada website for more information.
Also note that CPP disability is a taxable benefit which means it is deemed to be income for tax purposes.
What can I do if I have been denied disability benefits?
You can request a reconsideration if your application for CPP disability benefits has been denied. During a reconsideration, Service Canada staff who were not involved in the original benefits claim will re-assess your application, including any new information or paperwork you provide. If the reconsideration is denied, you can appeal to the Social Security Tribunal, which will involve a hearing. In rare circumstances, denied applicants might appeal to the Provincial Court, then the Supreme Court of Canada, if the application is turned down by the Social Security Tribunal.
A common reason why people are denied disability benefits is because CPP medical adjudicators do not have enough evidence to approve a claim. Therefore, it is important that you provide as much detail and documentation as possible with your application, including a medical report from a doctor. It is also important to demonstrate you have followed through with any recommended treatments and have made reasonable attempts to rehabilitate yourself in cases where rehabilitation is possible.
The lawyers at MacGillivray Law are equipped to gather appropriate evidence to push your case forward to get your CPP disability benefits approved.
How does a reconsideration appeal work?
If an applicant for CPP disability receives a denial letter, the applicant has up to 90 days to appeal the decision to reconsideration. During the reconsideration process, a new medical adjudicator will look over the application and may request more information from the applicant. It is the applicant's responsibility to provide any additional information that is requested. The medical adjudicator may even request that the applicant see another doctor, in which case CPP will reimburse the applicant for doctor's fees and travel costs, if needed.
How can a lawyer help with my CPP disability claim?
Having an experienced lawyer work with you through the process of applying for CPP disability benefits or appealing a denial can increase the likelihood of a successful claim. A lawyer can assist people denied CPP disability benefits with reconsideration and when standing before the Social Security Tribunal. Lawyers can gather evidence and summarize the medical charts, ask specific questions to your doctors and treatment providers, and make written and oral submissions on your behalf.
If you have been denied CPP disability benefits, or would like to have the counsel of a legal professional during the application process, contact us today.
Do I need to hire a lawyer located in my province for a CPP disability claim?
There is no requirement that your lawyer be located within your province, and MacGillivray Law is equipped to handle CPP disability cases across Canada.
We offer the option to do virtual consultations. Your case can be started over the phone or computer. All forms can be signed by you electronically or sent to you by courier. We will be in touch with you throughout the process by email, phone, or by video conference using services like Zoom or FaceTime. The tribunal hearing itself can be held via phone or video conference.
We will be by your side, each step of the way.
Should I apply for CPP disability if I am working, going to school, or volunteering?
Neither volunteer work nor going to school to complete a degree or to re-train has any effect on CPP disability benefits. Additionally, paid work resulting in up to $6,400 (in 2022) before taxes will not result in a loss of the CPP disability benefits. If you are earning more than the amount allowed, you must contact Canada Pension Plan to inform them. CPP disability benefits are intended to partially replace employment income for the duration that you are unable to work at any job on a regular basis.
If you have returned to work but your disability prevents you from being able to continue working, the benefit can be automatically restarted without going through the usual application process.
Should I apply for CPP disability if I am pursuing long term disability?
There are several advantages to receiving CPP disability benefits while pursuing a long-term disability claim with a private insurer:
Being a recipient of CPP disability benefits can be used as evidence of disability in an LTD claim. This finding of disability is not binding on the court or on your LTD insurer, but it is persuasive evidence where the Federal government has accepted that the claimant is disabled.
It provides some income to help a LTD claimant stay on top of bills while they are pursuing their LTD case through the courts.
Some LTD insurance policies require that you apply for CPP disability.
Am I eligible for disability benefits if I was working in another country?
If you lived and worked in another country, the contributions you made towards a foreign retirement plan may be used when considering minimum requirements of contributing to CPP for four of the last six years. The list of countries can be found on the Canada Revenue Agency website. More information about Canada's international social security agreements can be found here.
BOOK A FREE CONSULTATION
Have questions for our team?
Request a
Free Consultation
MacGillivray Law is a personal injury law firm with offices in Nova Scotia, New Brunswick, and Newfoundland and Labrador. We serve clients all across Canada.
If you cannot travel to one of our offices, we will accommodate your circumstances and travel needs. We can provide a consultation by phone, Zoom, or FaceTime, or travel to meet you in your home when required.
If you would like to learn your legal options at no obligation, contact us today to set up a free consultation.