Awards & recognition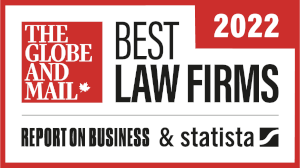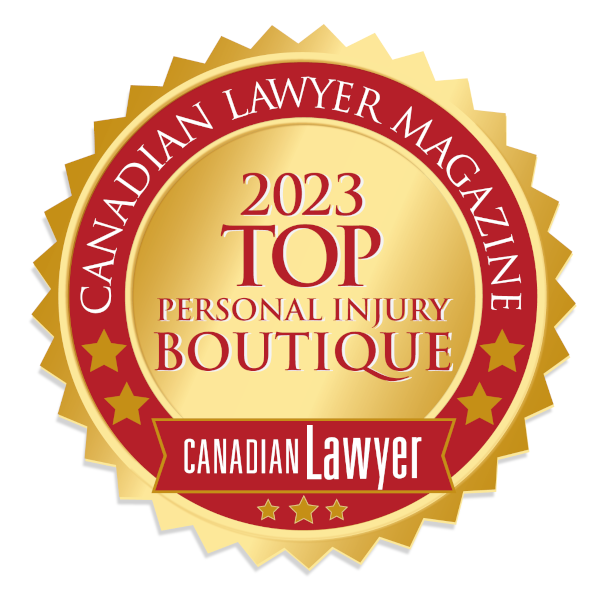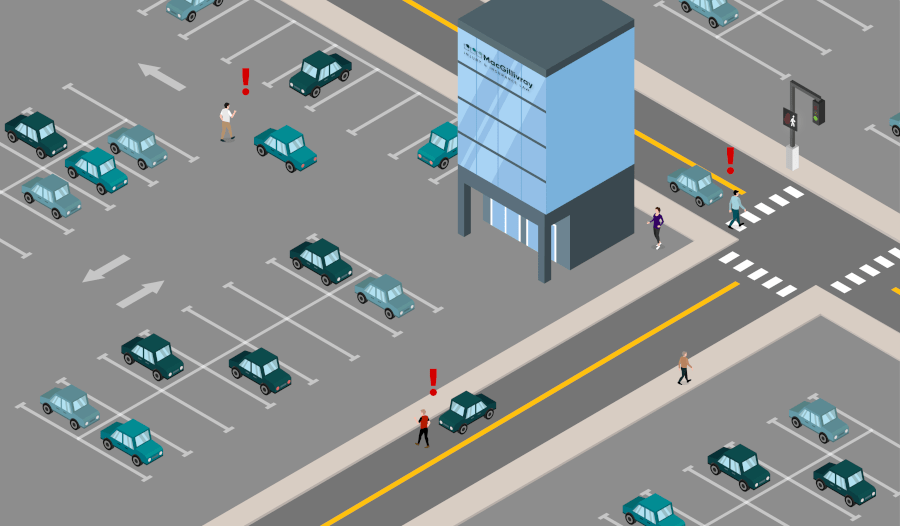 Both pedestrians and motor vehicles must abide by the rules of the road. However, pedestrians are in a vulnerable position relative to drivers. Because of the protection imbalance between a person seated in a vehicle and a person walking across a street, a car accident can easily cause serious injuries. Drivers must recognize their responsibility to obey traffic laws and share the road, while pedestrians must strive to stay safe and visible.
What should you do if you're hit by a vehicle as a pedestrian?
After being hit by a car, truck, bus, or any other motor vehicle as a pedestrian, call emergency services if you can. They can provide immediate care and create a police report. This report could be vital if you decide to file a personal injury lawsuit later.
If you're able, collect information at the scene. Note the driver's name, contact details, insurance policy, and vehicle information. Get names and contacts of any witnesses and take photos if possible. These can help prove negligence if you pursue legal action. If you cannot get all these details, we can help you gather the information where possible.
Remember, in Newfoundland and Labrador, you usually have two years to file a lawsuit if you're injured in a car accident, according to section 5 of the Limitations Act, SNL 1995, c L-16.1. However, there may be exceptions. It's wise to consult an experienced pedestrian accident lawyer soon after the collision to protect your right to compensation. Schedule a free consultation to learn more.
Common accident injuries
Pedestrians lack the protection of seatbelts and car frames. In a collision, they are often propelled through the air or knocked onto the concrete, often causing more severe injuries than those inside a vehicle.
A recent study conducted in Toronto found that reducing posted speed limits from 40 km per hour to 30 km per hour on local roads decreased both the frequency and severity of pedestrian accident injuries.
Some common injuries arising out of pedestrian accidents, include:
After an accident, you might not feel pain right away due to shock. Some injuries might appear only later. It's crucial to see a doctor promptly to diagnose and treat any injuries. If you plan to pursue an injury claim, the medical records will be key evidence. Consider scheduling a free consultation to explore your legal options.
Who has the right of way in Newfoundland and Labrador?
Crossing the street
In Newfoundland and Labrador, pedestrians have the right of way at crosswalks, while vehicles have it on the rest of the streets. Crosswalks might be marked with white lines or unmarked at intersections. Some even have lights and signals to guide right-of-way.
Newfoundland and Labrador's right of way rules are set out in Sections 124-128 of Newfoundland and Labrador's Highway Traffic Act, RSNL1990 c H-3. Here is a simple breakdown:
Where traffic control signals are not in place or not in operation where a pedestrian is crossing the roadway within a crosswalk, a driver of a vehicle approaching the crosswalk in either direction shall yield the right of way to the pedestrian.
A pedestrian shall not leave a curb or other place of safety and walk or run into the path of a vehicle that is so close that it is impracticable for the driver of the vehicle to yield.
Where a vehicle is stopped at a crosswalk to permit a pedestrian to cross the roadway, the driver of a vehicle approaching from the rear shall not overtake and pass the stopped vehicle.
Where a pedestrian is crossing a roadway at a point other than within a crosswalk, the pedestrian shall yield the right-of-way to an approaching vehicle.
Busy intersections, like the ones at Water Street in Downtown St. John's, can be particularly risky for pedestrians. It's crucial to stay vigilant and follow traffic regulations. For local accident statistics from 2012-2019, you can refer to the reports compiled by the City of St. John's, in collaboration with the Royal Constabulary of Newfoundland.
Parking lots
In a parking lot, both drivers and pedestrians must be aware of potential collision hazards. When a pedestrian accident occurs in a parking lot or on any other private roadway or property in Newfoundland and Labrador, the typical rules of negligence will apply: the injured person is responsible for proving that the driver who hit them was at fault for the accident and their resulting injuries.
Sidewalks
Pedestrians usually have the right of way on sidewalks. If a vehicle hits someone there, the driver is typically liable for the injuries. Rarely, a pedestrian might share some blame, especially near roadway intersections.
What does a lawyer need to prove on behalf of an injured pedestrian in Newfoundland and Labrador?
In Newfoundland and Labrador, if you're injured in a pedestrian accident, it's up to your lawyer to prove that the other driver was at fault. This means your lawyer must provide enough evidence to show that the driver didn't take reasonable care, leading to the accident and your injuries.
What if the pedestrian was partially responsible?
Figuring out who has the right of way between pedestrians and vehicles is usually simple. Pedestrians have the right of way at crosswalks, with or without signals. But accidents still happen, and sometimes the pedestrian may share some blame.
This is called contributory negligence, and it means the pedestrian's actions or lack thereof helped cause the accident. If a pedestrian is partly at fault, their compensation is reduced by the percentage of their blame. So, if they were 25% responsible for a $100,000 accident, they'd receive $75,000.
What might cause a pedestrian to share the blame? Factors include:
Using a phone or texting while crossing
Wearing headphones
Crossing without the right of way
Not checking for approaching vehicles
Wearing dark, non-reflective clothing at night
Walking on the wrong side of the street if there's no sidewalk
In these scenarios, the pedestrian's compensation would be adjusted according to their responsibility for the accident.
Contributory negligence doesn't mean the victim is left without compensation. Rather, it reduces the amount awarded. A personal injury lawyer can help by collecting the necessary information and building a case to maximize the victim's entitled damages. Even if some fault lies with the injured party, legal assistance can help in obtaining significant compensation. Book a free consultation to learn more.
Newfoundland and Labrador case law examples on contributory negligence
Determining who is at fault for pedestrian accidents is dependent the situation. Each claim is unique. They will have different circumstances and details that will be considered. The following case law example shows how Newfoundland and Labrador courts consider contributory negligence and dividing fault in pedestrian accidents.
Kippenhuck v. Evoy, 2020 NLSC 24
One dark November evening in Happy Valley-Goose Bay, Ms. Kippenhuck and Mr. Ivany were walking their dog on Campbell Street. They were on the right side of the road, where traffic would approach from behind, and neither wore reflective clothing. The defendant, Mr. Evoy, hit them both with his car.
The court ruled that Mr. Evoy was at fault for not driving carefully, particularly for not watching for pedestrians and driving on the gravel shoulder. However, Ms. Kippenhuck was also partly to blame. Section 128(2) of the Highway Traffic Act, RSNL 1990, c C-33, states that pedestrians should walk on the left side of the road, facing oncoming traffic if there's no sidewalk. While breaking this rule alone wasn't enough to find her at fault, the combination of walking on the wrong side of the road at night without reflective clothing showed a lack of care on her part.
The court divided responsibility for the accident, assigning 90% to Mr. Evoy and 10% to Ms. Kippenhuck.
Bishop v. Blake et al., 2003 NLSCTD 179
Bishop and Blake were co-workers at a construction site. One dark, foggy, rainy night, Bishop was a passenger on a bus driven by Smith. After the bus stopped, Bishop hurriedly exited without checking for traffic and was hit by Blake's car. The site had no posted speed limit, but on the main roads, it was 40 or 50 km/h. Under the Highway Traffic Act, Bishop should have yielded to Blake's vehicle, but he crossed without checking and was hit. He was wearing a green coat, which might have contributed to visibility issues.
Bishop was found primarily responsible for the damages, ignoring the bus's warning sign and failing to take proper care. The bus driver and owner were also found partly liable, as they had a duty to ensure passenger safety and contributed to the accident. The liability was divided: 65% to Bishop and 35% to the bus driver. Blake, who was leaving the construction site in his vehicle and struck Bishop, was not found liable.
How can pedestrians hurt in an accident in Newfoundland and Labrador be compensated?
If a pedestrian is injured in a car accident, financial compensation through insurance is available. This can cover different types of damages, including pain and suffering, lost wages, reduced ability to do household chores, future medical care, and out-of-pocket expenses like medical costs. Certain benefits, such as income replacement and some medical coverage, are available regardless of fault through Section B insurance.
Unlike typical car accidents involving drivers or passengers, where individuals are covered by their own auto insurance policies, insurance coverage for pedestrians may vary, adding a layer of complexity to the situation.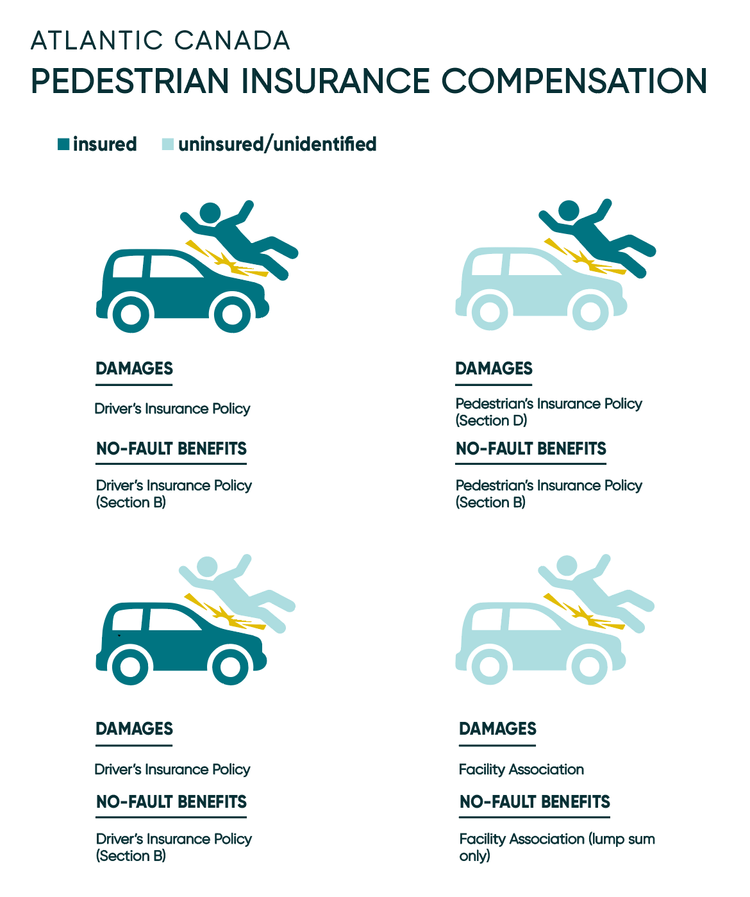 What benefits do I have if I am an insured pedestrian?
If a pedestrian has car insurance, either individually or as a dependent, seeking damages depends on the driver's insurance. If the driver is insured, their policy will cover the pedestrian's damages and Section B benefits. In a situation where the driver is uninsured or unknown, like a hit-and-run, the pedestrian's own insurance will provide compensation, as per Newfoundland and Labrador's Insurance Act.
What options do I have if I am an uninsured pedestrian?
If a pedestrian lacks insurance, getting compensation depends on the driver's insurance. If the driver has insurance, that policy will cover the pedestrian's damages. If the driver isn't insured or is unknown, the Facility Association will provide coverage. Even without the pedestrian's own insurance, Section B benefits, including income replacement and medical coverage, can be negotiated as a lump sum with the Facility Association.
Our experienced personal injury lawyers can help you navigate your claim for compensation.
Standard policy in Newfoundland and Labrador
BOOK A FREE CONSULTATION
Have questions for our team?
What Our Clients Say... Reviews
"Okay, here goes. This Law Firm was absolutely amazing. They pulled a rabbit from a hat on my behalf, thank you so much guys."
"From my first meeting to my last meeting I was always treated with the greatest professionalism. All the staff are very polite and helpful."
"After being rear ended while stopped at a red light by a driver who was preoccupied with something else, I have been dealing with whiplash. I contacted MacGillivray Injury and Insurance Law. MacGillivray took care of everything and with ease…"
"My experience at was very positive from start to finish. Nicolle Snow was very professional and an excellent injury lawyer."
"I wish I could give this company more than 5 stars… Awesome law firm, friendly and with you every step of the way."
"Daniel Wood from MacGillivray Law took care of my insurance claims from not one, but two car accidents. Daniel worked hard, kept me well-informed, and ensured my settlements were well above what I had been initially offered."
"After being denied LTD on several occasions, I decided to hire MacGillivray Law. They are professional, thorough, and very caring.
They got my case resolved in less than a year and got a settlement I am happy with."
"Very happy with the staff and their tenacity, honesty, and communications while handling my claim. This firm came highly recommended by a friend, and for good reason – extremely professional and forthcoming with as much information as possible."
"In 2020 I was in a car accident. The team at MacGillivray Law was able to secure an amount that would take care of future treatments as well as adequate compensation for overall damages. I cannot thank them enough for making this process seamless and we will always be a MacGillivray Law family."
"MacGillivary Law are absolutely wonderful to work with! I would recommend their team to anyone that needs their services. And a special thank you to Madison Veinotte, who gave me hope, guidance and understanding when I needed it the most."
"From day one, I felt comfortable with Melanie at MacGillivray Law. She led the way with her expertise and knowledge, and I never felt pressured in any way. I am very satisfied with everyone that I dealt with." Reviews
Request a
Free Consultation
MacGillivray Law is a personal injury law firm with offices in Nova Scotia, New Brunswick, and Newfoundland and Labrador. We serve clients all across Canada.
If you cannot travel to one of our offices, we will accommodate your circumstances and travel needs. We can provide a consultation by phone, Zoom, or FaceTime, or travel to meet you in your home when required.
If you would like to learn your legal options at no obligation, contact us today to set up a free consultation.