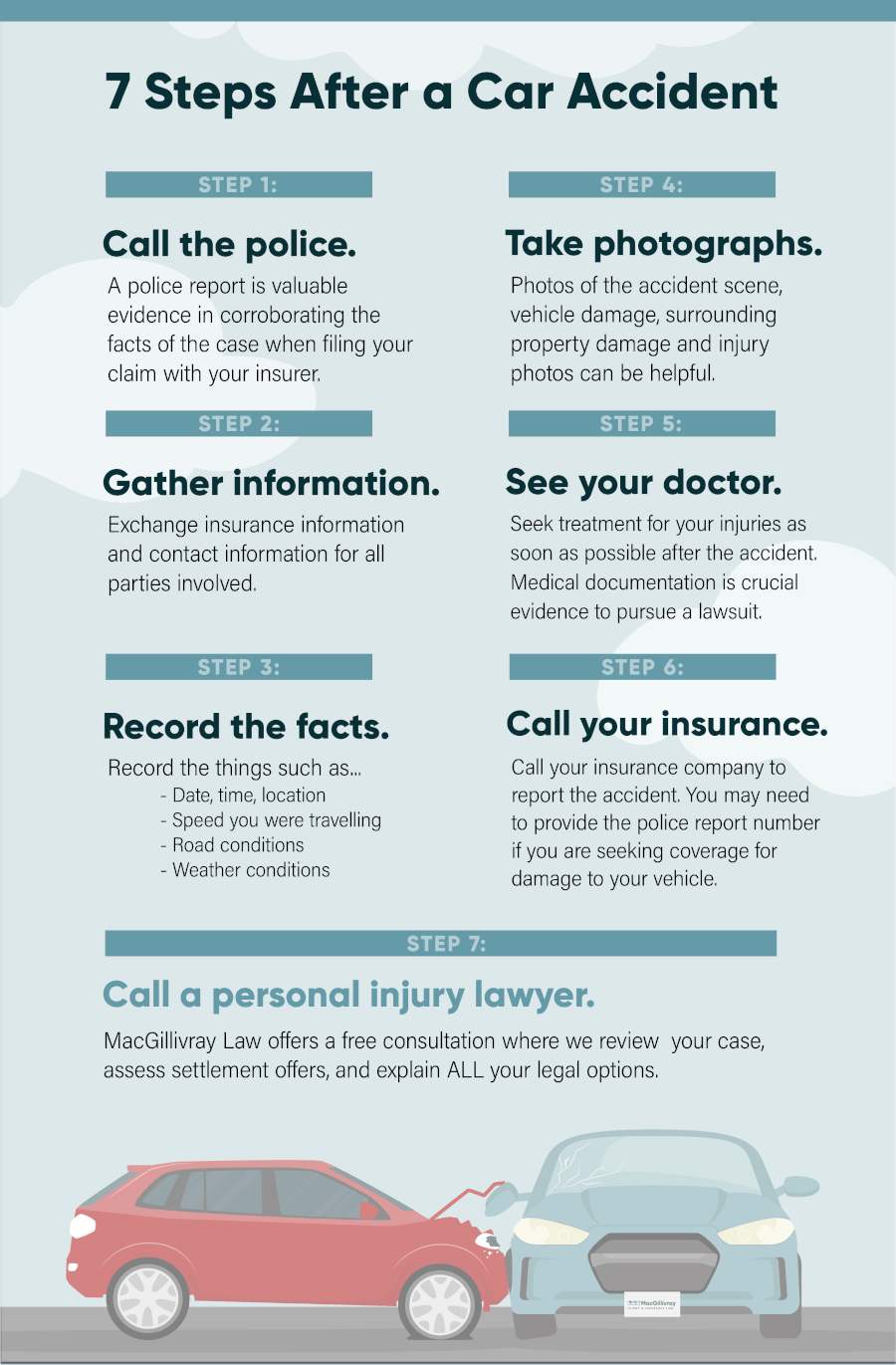 Follow these steps after an accident to help protect your rights to future compensation and benefits:
1. Call the police.
It is best to call the police or emergency services when an accident takes place if anyone is injured or there is damage to any vehicles. A police report is valuable evidence in corroborating the facts of the case when filing your claim with your insurer.
2. Gather information from the other driver and witnesses.
At the scene of the accident, exchange insurance information and record the names, addresses, and phone numbers of all parties involved in the accident, as well as contact information of witnesses. Gather as much information as possible. If the other driver is uninsured, or flees the scene after the accident (hit and run), you have options.
3. Record the facts of the accident.
Record the details of the collision:
Date, time, and location of the collision
Was it light or dark outside? Were there streetlights?
The speed you were travelling
The direction each vehicle was travelling
The distance from the point of collision to when you first saw the other vehicle
Describe the road conditions:
Were the roads wet or dry? Icy or snow-covered?
Were there potholes or ruts?
Did the road have a shoulder?
Was there loose material on the road?
Were the traffic lines clearly marked?
Was it a straight stretch?
Was it on a grade or a hill crest?
Was anything obstructing your view?
Describe any traffic control:
Was there a stop sign near where the collision took place?
Was it a slow zone?
Describe the weather conditions:
Was it sunny? Raining? Snowing?
Was the sun in your eyes?
Was there fog?
4. Take photographs.
Take photos of the accident scene, including vehicle and surrounding property damage. Photos of your injuries can also be helpful in documenting the effects of the accident.
5. Visit your healthcare provider.
Seek treatment for your injuries from a healthcare professional, such as your family doctor, the walk-in clinic, or the hospital, as soon as possible after the accident. Medical documentation of your treatment history is crucial evidence if you decide to pursue a lawsuit. Where treatment is recommended, you should follow through on that treatment to aid in your recovery.
6. Notify your insurance company.
Call your own insurance company to report the accident. You may need to provide your insurer with the police report number if you are seeking coverage for damage to your vehicle sustained in the accident. Under your own insurance coverage, you can arrange treatment for your injuries, such as physiotherapy or massage.
7. Seek legal advice from a personal injury lawyer.
It is important that you speak to an experienced personal injury lawyer before giving a statement to an insurer or accepting a settlement offer. MacGillivray Law offers a free consultation. We will review the facts of your case, assess any settlement offers, and explain your legal options.
BOOK A FREE CONSULTATION
Have questions for our team?
Request a
Free Consultation
MacGillivray Law is a personal injury law firm with offices in Nova Scotia, New Brunswick, and Newfoundland and Labrador. We serve clients all across Canada.
If you cannot travel to one of our offices, we will accommodate your circumstances and travel needs. We can provide a consultation by phone, Zoom, or FaceTime, or travel to meet you in your home when required.
If you would like to learn your legal options at no obligation, contact us today to set up a free consultation.