It is important to contact a lawyer as soon as possible after a car accident occurs. It is your lawyer's job to build a strong case for you, which may include preserving evidence from the scene of the accident, gathering witness statements, and consulting with accident reconstruction specialists. The sooner you engage a lawyer, the sooner they can begin their work gathering time-sensitive evidence. Contacting a lawyer promptly also helps ensure that all timelines are met in the litigation process so that your claim can be pursued successfully.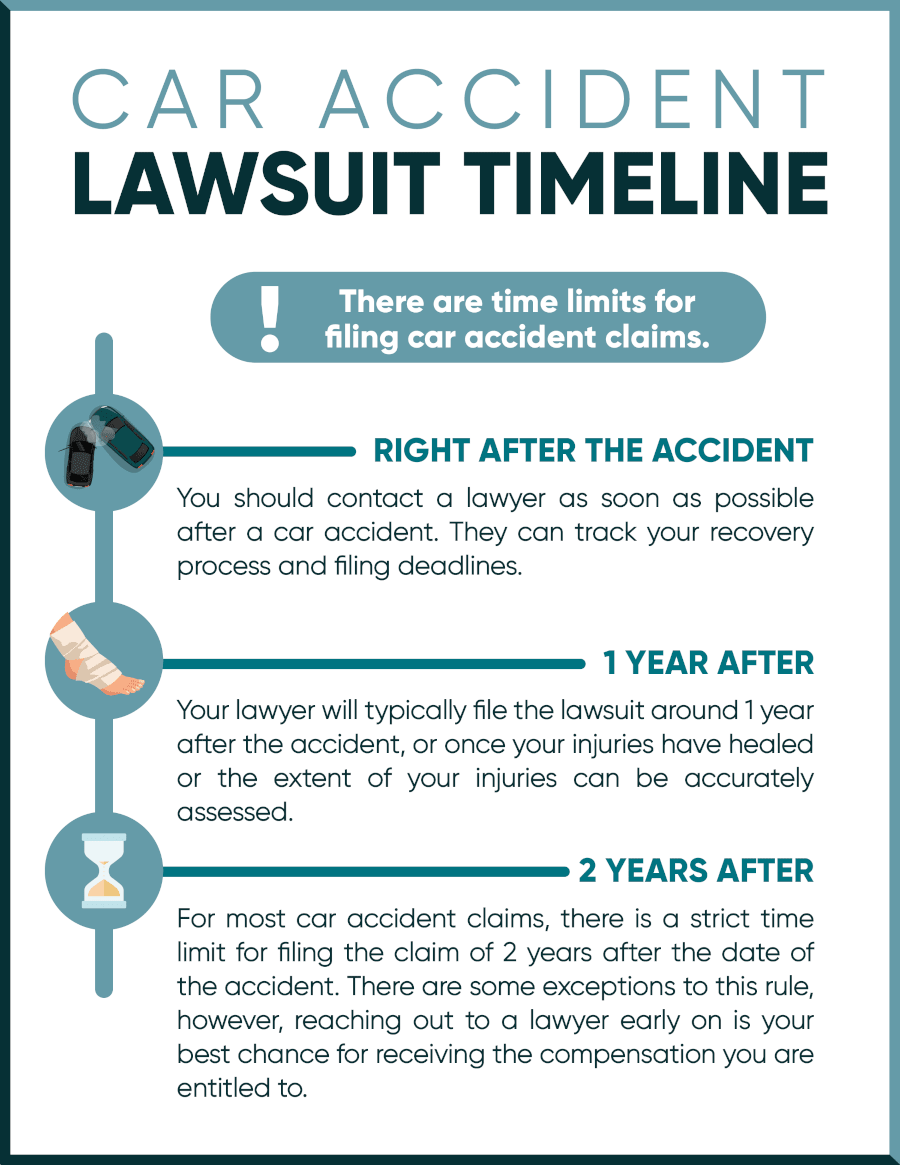 At MacGillivray Law, we typically file a lawsuit against the at-fault driver one year after the date of the accident, or once your injuries have healed or the extent of your injuries can be accurately assessed. In general, the legal limitation period for filing a motor vehicle accident claim is two years from the date of the accident in Nova Scotia, New Brunswick, Newfoundland & Labrador, Prince Edward Island, and Ontario, although there are exceptions. Newfoundland and Labrador imposes an additional step, requiring that notice of intent to pursue a personal injury lawsuit be served on the Defendant within 120 days of the accident.
There are other time limits that apply to no-fault claims under Section B in Atlantic Canada or Ontario's Statutory Accident Benefits.
Ontario imposes several other deadlines, including the following:
Notifying your Accident Benefits insurer about the accident within 7 days;
Submitting an Accident Benefits application within 30 days;
Providing written notice to the at-fault driver of your intention to pursue a lawsuit within 120 days; and
Filing a lawsuit for vehicle damage within 1 year.
If you've been injured in a motor vehicle accident, book a free consultation to learn the limitation period that applies to your claim.
BOOK A FREE CONSULTATION
Have questions for our team?
Request a
Free Consultation
MacGillivray Law is a personal injury law firm with offices in Nova Scotia, New Brunswick, and Newfoundland and Labrador. We serve clients all across Canada.
If you cannot travel to one of our offices, we will accommodate your circumstances and travel needs. We can provide a consultation by phone, Zoom, or FaceTime, or travel to meet you in your home when required.
If you would like to learn your legal options at no obligation, contact us today to set up a free consultation.