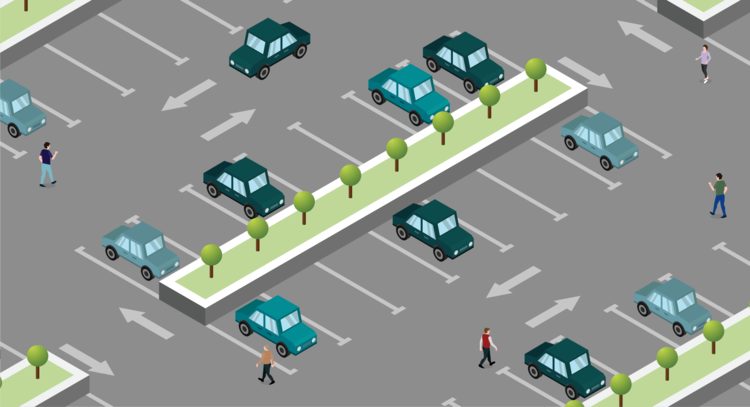 Parking lots
In a parking lot, both drivers and pedestrians must be aware of potential collision hazards. When a vehicle hits a pedestrian in a parking lot or on any other private roadway or property, the typical rules of negligence will apply: the injured pedestrian is responsible for proving that the driver who hit them was at fault for the accident and their resulting injuries.
Sidewalks
A pedestrian at a sidewalk has the right of way. If a vehicle hits a pedestrian walking on the sidewalk, the driver of the vehicle will typically be responsible for the pedestrian's resulting injuries. There may be instances where a pedestrian carries some partial fault for an accident, even if they were on the sidewalk, however, these cases are rare and occur largely where the roadway intersects with the sidewalk.
Case law examples
Case law is the written decisions of judges in court cases. The previous rulings, or precedents, can be binding or persuasive for judges making decisions in new cases. The principle behind precedent-based law is that the law should be applied consistently throughout Canada and the individual provinces and territories. Lawyers look at the facts of a situation and find case law that is relevant to both determine how a judge might decide a case and argue that a case should be decided in a particular way.
Parking Lots
Patterson v. MacKenzie, 1972 CanLII 1638 (NB CA)
Ms. Patterson parked her car in the K-mart parking lot, walked towards the store entrance, and was struck by Mr. MacKenzie's vehicle in the 30-foot wide lane in front of the store. There was a truck parked in front of the store that impeded Mr. MacKenzie's view of Ms. Patterson.
The court determined that Mr. MacKenzie was driving too fast for the slippery condition and heavy pedestrian traffic. Ms. Patterson was negligent in not looking both ways before crossing from behind a parked truck in a location not specifically marked for pedestrian crossing. The court found that liability ought to be split 2/3 against the driver and 1/3 against the pedestrian.
Adams v. Follett, 1984 CarswellNfld 157 (NL DC)
Mr. Adams was acting in his duties as a parking lot attendant when he was struck and pinned between a truck and a car. He was guiding Mrs. Follett's truck into a parking space from behind the truck. He motioned for Mrs. Follett to stop, however, the truck continued, even after Mr. Adams banged on the back of the truck to alert Ms. Follett. Mrs. Follett claims she could not see Mr. Adams while he was guiding her into the spot. Mr. Adams believed that Mrs. Follett was following his guidance into the spot, and only realized, once she did not stop, that she could not see him.
The court found Ms. Follett 100% liable for the accident. Mrs. Follett had a duty to keep a continuous lookout when backing up and make sure she could do so safely and without interfering with traffic. She ought to have known as well that Mr. Adams was standing behind the truck.
Collett v. Mattinson, 1993 CanLII 6810 (NB QB)
Mrs. Collett parked her car in a grocery store parking lot, exited her car, and walked through the parking lot towards the store. She denied walking diagonally through any parking spaces. Mr. Mattinson was driving a half-ton truck through the parking lot. He was stopped preparing to turn into the lane to access parking spaces. When he accelerated his vehicle, he saw that Mrs. Collett was in front of the vehicle, so he slammed on his brakes but still struck her. The collision happened at slow speed, Mrs. Collett was not knocked down and continued into the grocery store.
The judge found that it should have been obvious to Mrs. Collett that the driver's vehicle was not stopped or parked, and she was negligent in crossing in front of the vehicle until she was sure it was safe to do so. Additionally, Mr. Mattinson was negligent in accelerating his vehicle without first checking the front of the vehicle to ensure it was safe to proceed. In the circumstances, the judge was unable to determine the degree of fault and apportioned liability evenly between the pedestrian and the driver.
Sidewalks
MacPherson v. Campbell, 1980 Carswell NS 180 (NS SC)
Mr. MacPherson exited a cab one night on his way back to an inn after having a few drinks at a tavern. The cab was parked across the street from the inn, so he looked both ways, then crossed the street. He was not at an intersection. He got to the other side, and when he had one foot up on the curb, he was hit by a car and knocked unconscious. He was half on the sidewalk and half on the road when he regained consciousness. A light snow had been falling, and driving conditions were slippery.
The court found that the driver of the vehicle, Mr. Campbell, was driving at a speed that was appropriate for the conditions that night, but he was not keeping a proper lookout. The court also found that Mr. MacPherson came out from behind a parked vehicle at a fast pace and crossed the street outside of a crosswalk without looking. Ultimately, liability was apportioned 70% to the pedestrian, Mr. MacPherson, and 30% to the driver, Mr. Campbell.
O'Donnell v. O'Blenis, 2003 NBQB 168, affirmed in 2004 NBCA 23
Ms. O'Donnell was walking on the north side of Mountain Road in Moncton, NB, heading in an easterly direction. As she approached the exit lane from KFC, she noticed Mr. O'Blenis' vehicle at the takeout window. She continued toward the exit lane, she thought she made eye contact with Mr. O'Blenis and proceeded across the lane. Mr. O'Blenis and his passenger each looked left and right and did not see any pedestrian or vehicle traffic, so they proceeded onto the sidewalk. Mr. O'Blenis paused there waiting for a break in the traffic, then proceeded westerly to enter the roadway. At this moment, he took his foot off the brake, and the front of his vehicle collided with Ms. O'Donnell.
Mr. O'Blenis was negligent in failing to see Ms. O'Donnell approaching on the sidewalk and taking his foot off the brake before looking to his right to ensure the path was clear. Ms. O'Donnell was negligent in placing herself in a position of risk when she knew or ought to have known that it was unsafe due to the Mr. O'Blenis' attention being focused in the opposite direction. Given the responsibility on Mr. O'Blenis to show he was not negligent, the court held that liability should be apportioned 60% for Mr. O'Blenis, the Defendant and 40% for Ms. O'Donnell, the Plaintiff.
BOOK A FREE CONSULTATION
Have questions for our team?
Further reading
Frequently Asked Questions
Request a
Free Consultation
MacGillivray Law is a personal injury law firm with offices in Nova Scotia, New Brunswick, and Newfoundland and Labrador. We serve clients all across Canada.
If you cannot travel to one of our offices, we will accommodate your circumstances and travel needs. We can provide a consultation by phone, Zoom, or FaceTime, or travel to meet you in your home when required.
If you would like to learn your legal options at no obligation, contact us today to set up a free consultation.