...staying informed about the latest developments is crucial to effectively representing our clients.
At MacGillivray Injury and Insurance Law, we are committed to providing exceptional legal services to our clients in Atlantic Canada. Serving Nova Scotia, New Brunswick, Prince Edward Island, and Newfoundland and Labrador, we are dedicated to staying at the forefront of personal injury and insurance law. In early June, our team attended the Atlantic Provinces Trial Lawyers Association ("APTLA") Conference, which was held in Charlottetown, Prince Edward Island. This year's topic focused on running a personal injury file from beginning to end.
Three of our lawyers presented in the conference:
Keep on reading to learn about our experience and takeaways from APTLA 2023.
Why we went
Staying on Top of the Law: The legal landscape is constantly evolving, and staying informed about the latest developments is crucial to effectively representing our clients. Through informative presentations and engaging panel discussions, we gained valuable insights into the various stages of a personal injury case's lifecycle.
Connecting with Experts and Vendors: Building a strong network of professionals is essential in personal injury cases, where expertise from various fields often comes into play. This conference offered us a unique opportunity to connect with experts who play a crucial role in supporting our clients' claims. From doctors to forensic accountants, rehabilitation specialists to life care planners, we were able to engage with professionals who enhance the quality of our legal services.
Team-Building and Collaboration: Conferences not only provide educational value but also foster a sense of teamwork and collaboration. Our entire team had the chance to come together, exchange ideas, and strengthen our bonds. Three of our lawyers were also able to share their knowledge and our MacGillivray Law expertise through participating or presenting in conference events. This collaborative spirit is a fundamental part of our commitment to delivering comprehensive and effective legal representation.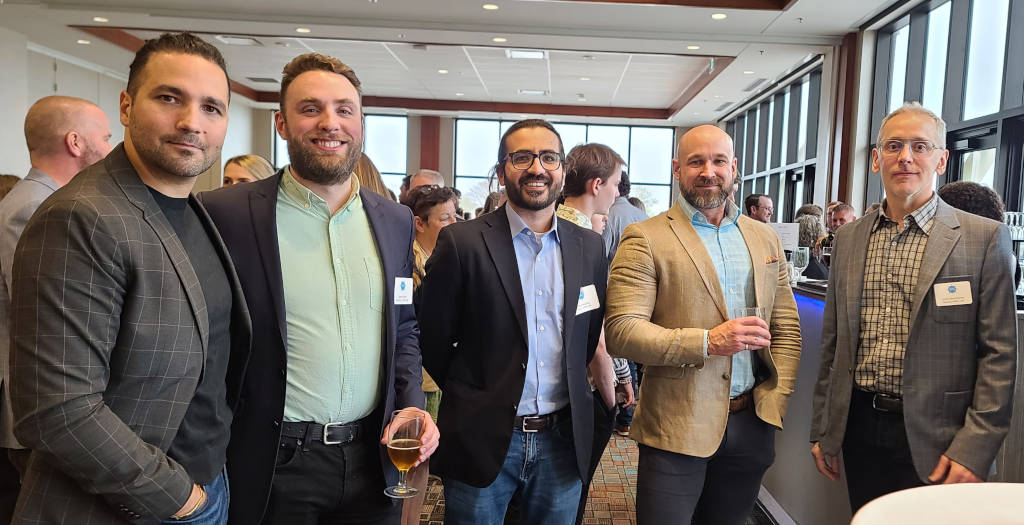 What we presented

Andrew Rowe (St. John's, NL office)
Andrew Rowe is an Associate Lawyer at MacGillivray Law, St. John's. Andrew discussed the importance of expert reports in establishing liability in personal injury cases. For example, cost and timing of expert reports can impact a plaintiff's case. Andrew emphasized that depending on the type of case, a simpler report can be more beneficial and cost-effective in establishing liability, such as in slip and fall cases. He also talked about "black box data," which is information recorded by an Event Data Recorder in a vehicle. This data, such as the vehicle's speed at the time of a collision, can be valuable when there is limited physical evidence to determine fault. Ultimately, he emphasized the lawyer's responsibility in evaluating and arguing the legal issues in a lawsuit, with expert reports serving as a valuable tool but not the sole determining factor.
In the presentation, Andrew was joined by JS Held physicist/forensic engineer, Sami Shaker. Sami presented on commonly recorded data and human response factors, such as brake pedal use at five seconds pre-crash, perception response time, airbag deployment and number of events, and ignition cycle at time of crash.
Steve Scruton (St. John's, NL office)

Steve Scruton, a partner at MacGillivray Law in St. John's, participated in a panel discussion with mediator, Chris Correia, K.C., and lawyer Paul Mullin, K.C. on how they would present a case based on a fact pattern. The panel members provided a behind the scenes look at strategy for presenting a winning case. Some of the main issues that arose were the role of post-accident mental health diagnoses on the prognosis and pre-accident earning capacity.
The case was about a fictional businessperson who had been involved in two consecutive motor vehicle accidents and was subsequently diagnosed with various medical issues, including PTSD. The businessperson was self-employed, and had recently completed a master's degree and certification in corporate training. Steve and his opposing counsel presented the businessperson's situation and advocated for their desired outcome, which focused on achieving a realistic earning capacity claim while taking into account the diagnoses from healthcare professionals.
Chad Horton (Halifax, NS office)

Chad Horton is a partner at MacGillivray Law in Halifax, and participated in a real-time mediation session with mediator, Tara Miller, K.C. and lawyer Stephen Marshall, K.C. The conference attendees watched as the panel analyzed two fictional case patterns, evaluated the claims, and presented persuasive arguments to reach negotiated settlements.
First scenario: In February 2022, Ivan experienced pain and stiffness after a rear-end collision and received a WAD II diagnosis from Dr. Pardy. He tried Naproxen but switched to Voltaren due to stomach irritation. Ivan received physiotherapy and massage sessions to address his MVA-related symptoms. Although his shoulder injuries improved, he refrained from his favorite activity, outdoor bouldering, and reported worsening neck pain while driving and bouldering indoors. Ivan managed his symptoms with self-care and medication but noticed his depression worsening, so Dr. Pardy increased his Sertraline dosage. After the accident, Ivan admitted neglecting tasks and considered therapy to help his recovery process, but had concerns about affordability and work absences. Dr. Pardy's letter mentioned Ivan's recovery from pre-MVA shoulder injuries and improvement in MVA-related injuries. Discoveries were scheduled but incomplete. The main issues in the case related to the impact of Ivan's depressive symptoms on his everyday activities and future work life.
Second scenario: In August 2018, Ms. Jane Doe had a cycling accident on Duke Street in Halifax (steep downward slope) when a delivery person opened their van door in her path of travel, knocking her to the ground. She experienced various physical symptoms including neck and shoulder pain (WAD II and chronic myofascial pain), headaches, and low back pain. Her symptoms worsened with activity and limited her recreational activities. After the accident, she struggled to maintain employment due to ongoing pain, relied on cannabis for pain management, and experienced a psychotic break 28 months later, which resulted in hospitalization. She also withdrew from school, stopped working, and applied for CPPD benefits. Discoveries were completed, no independent medical examinations were conducted, and the parties agreed to mediate before considering a trial. The main issues in this case were the presence of Somatic Symptom Disorder, and the pre-accident earnings as an indication of earning capacity.
In both scenarios, with help from the mediator, the lawyers reached a mutual agreement for settlement. This session provided a valuable behind-the-scenes look at what goes through a mediator's mind as she navigates through the settlement discussions coming from both sides.
Takeaways
Attending conferences like the APTLA Spring Conference is an invaluable investment in our clients' interests. By staying on top of the law, connecting with experts, vendors, and peers, and actively engaging in team-building activities, we ensure that our legal services are informed, comprehensive, and effective. Our commitment to continuous learning and collaboration enables us to provide the highest level of representation to our clients throughout Atlantic Canada.
If you're seeking dedicated and knowledgeable personal injury and insurance law representation, we invite you to contact MacGillivray Law. Our team is well-equipped to handle the complexities of your case and guide you through the personal injury journey with care, compassion and expertise.
Author: Christina Cleroux
Request a
Free Consultation
MacGillivray Law is a personal injury law firm with offices in Nova Scotia, New Brunswick, and Newfoundland and Labrador. We serve clients all across Canada.
If you cannot travel to one of our offices, we will accommodate your circumstances and travel needs. We can provide a consultation by phone, Zoom, or FaceTime, or travel to meet you in your home when required.
If you would like to learn your legal options at no obligation, contact us today to set up a free consultation.