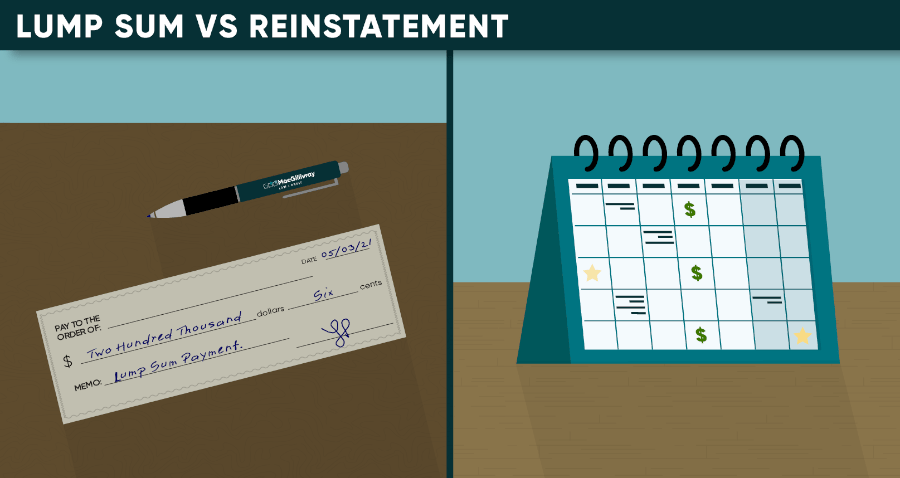 What is a lump sum settlement on my long term disability claim?
A lump sum settlement is a one-time payment made to you, representing the totality of your insurance policy including your retroactive benefits as well as the value of future disability payments. In exchange, you must agree that the lump sum is all you're entitled to under the policy, and you agree to sign away your rights under the policy.
There are advantages and disadvantages to lump sum payments vs. having your monthly disability benefits reinstated. Book a free consultation to discuss your options with an experienced disability lawyer.
What are the advantages of being reinstated for long term disability instead of receiving a lump-sum?
Receiving your benefits in standard monthly instalments could be the better choice for you if your disability is temporary, and you hope to keep your policy once you return to work.
If you receive a lump sum settlement, once you spend it, you cannot go back for more. It is therefore very important that you have a money management plan in place when you receive a lump sum settlement.
What are the advantages of accepting a lump-sum settlement instead of being reinstated for LTD benefits?
Reinstatement provides no guarantee that you will continue to receive your benefits in the future for the whole duration of the policy. In other words, your benefits could be terminated again in the future, whereas a lump sum payment provides you with closure.
The Supreme Court of Canada has confirmed that if your benefits are taxable, only the arrears portion of a lump sum settlement is taxable and the amount for future benefits is not.
If you are able to return to work in the future after having received a lump sum payment, you can make an effort to do so without having to communicate with an insurance company.
If you have concerns about your life expectancy, and you want to make sure that your family receives most of the value of your policy, a lump-sum payment guarantees a set amount of money now.
It is crucial that you understand the exact wording of the waiver that you agree to upon accepting a lump sum settlement. A personal injury lawyer will review and explain the waiver, and ensure that your rights are protected.
BOOK A FREE CONSULTATION
Have questions for our team?
Request a
Free Consultation
MacGillivray Law is a personal injury law firm with offices in Nova Scotia, New Brunswick, and Newfoundland and Labrador. We serve clients all across Canada.
If you cannot travel to one of our offices, we will accommodate your circumstances and travel needs. We can provide a consultation by phone, Zoom, or FaceTime, or travel to meet you in your home when required.
If you would like to learn your legal options at no obligation, contact us today to set up a free consultation.