"...provides another option to access care for those who are without a family doctor or nurse practitioner."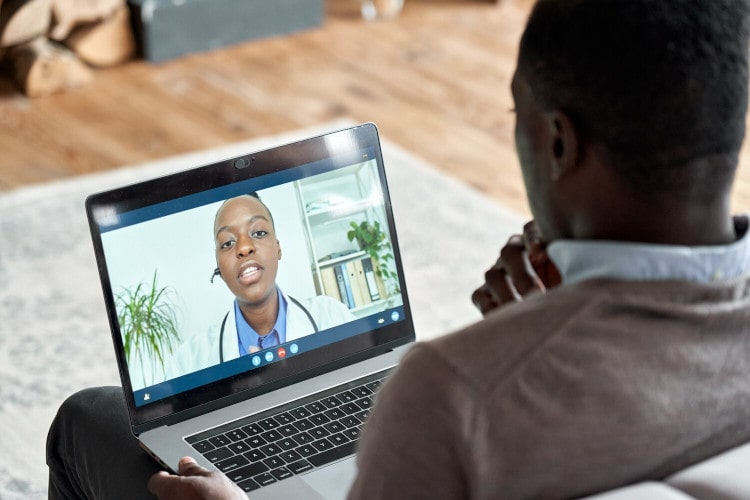 In a press release, Nova Scotia Health detailed the roll out plan for virtual medical care in communities with the greatest need.
Starting May 17, 2021, people on the Need a Family Practice Registry in certain communities in the Northern and Western zones will have an additional option for accessing primary care.
VirtualCareNS is an innovative virtual program developed by Nova Scotia Health in partnership with the Department of Health and Wellness. The program enables people on the registry to access a primary care provider online through their computer or mobile device.
"Over the past year, Nova Scotians have quickly embraced virtual care to connect with their family practice for health advice," said Dr. Gail Tomblin Murphy, VP of Research, Innovation and Discovery, and Chief Nurse Executive, Nova Scotia Health. "Our Research, Innovation, and Discovery team has worked closely with our Primary Health Care team to find a solution to provide virtual care for those who have been on the Need a Family Practice Registry the longest. This program is based on best evidence and examples in other jurisdictions, and provides another option to access care for those who are without a family doctor or nurse practitioner."
Initially, people in the communities of Middleton, New Glasgow, Truro, and Yarmouth will be contacted to register. The pilot program will gradually expand to all communities in the Northern and Western zones.
"As the pandemic has demonstrated, virtual care is a powerful tool that can help us deliver quality care to Nova Scotians. While virtual primary care is not meant to, and will not replace the role of primary care providers in providing comprehensive in-person care, it helps us bridge the gap and provide people with the care they need," noted Dr. Maria Alexiadis, Senior Medical Director, Primary Health Care and Chronic Disease Management Network, Nova Scotia Health
"Virtual care has been an important way of meeting Nova Scotians' health care needs safely and effectively during the pandemic," said Zach Churchill, Minister of Health and Wellness. "This partnership will provide many who are without a primary care provider with access to a range of health services, while also helping to inform the future state of virtual care in the province."
VirtualCareNS is a free program that will be delivered using Maple, one of Canada's leading virtual care platforms. Maple was selected earlier this year following a robust procurement selection and evaluation process.
"We know that approximately seven per cent of Nova Scotians don't have access to a primary healthcare provider, and can't access primary care where and when they need it," said Dr. Brett Belchetz, CEO and Co-founder of Maple. "We're pleased to be a part of this innovative program by Nova Scotia Health that will bring virtual care to those who need it the most."
People in the identified communities will be contacted in chronological order, based on their date of registration with the Need a Family Practice Registry. They will receive an email from Nova Scotia Health, inviting them to sign up for VirtualCareNS using a unique participant link.
In addition to being on the Need a Family Practice Registry, participants must also:
Hold a valid Nova Scotia health card number
Be able to access the internet through a computer or mobile device and
Have a valid email that they regularly use.
All primary care providers participating in this program are licensed in Nova Scotia. This is a Nova Scotia solution for Nova Scotians.
"As we continue to prioritize physician recruitment to communities across the province, helping unattached patients is a critical priority for myself and our physician leadership team. I am very excited to welcome this new tool which will improve access to care for those without a care provider. The future of health care is changing, and this type of innovation is something that can help Nova Scotians receive the care they need," said Dr. Nicole Boutilier, VP of Medicine, Nova Scotia Health.
Participants can use VirtualCareNS to receive care for a variety of health concerns typically addressed by a primary care provider. If a patient's health concerns can't be resolved virtually, they will be provided with options for in-person care. Primary care providers can also prescribe medications, order tests, and make referrals for specialized care. A detailed list of health concerns that can be addressed during a virtual appointment can be found at www.virtualcareNS.ca
Funding for this pilot has been directed from the Safe Restart agreement. This work aligns with the province's Provision of Publicly Funded Virtual Health Services policy.
About Nova Scotia Health
Nova Scotia Health provides health services to Nova Scotians and a wide array of specialized services to Maritimers and Atlantic Canadians. We operate hospitals, health centres and community-based programs across the province. Our team of health professionals includes employees, doctors, researchers, learners and volunteers. We also work in partnership with community groups, schools, governments, foundations and auxiliaries and community health boards. Visit nshealth.ca for more.
About Maple
Maple is a technology platform that enables patients to connect directly with primary care providers in minutes from their smartphone or computer.
Request a
Free Consultation
MacGillivray Law is a personal injury law firm with offices in Nova Scotia, New Brunswick, and Newfoundland and Labrador. We serve clients all across Canada.
If you cannot travel to one of our offices, we will accommodate your circumstances and travel needs. We can provide a consultation by phone, Zoom, or FaceTime, or travel to meet you in your home when required.
If you would like to learn your legal options at no obligation, contact us today to set up a free consultation.