...a newly licenced driver in their first year of driving can lose their licence after only two distracted driving charges.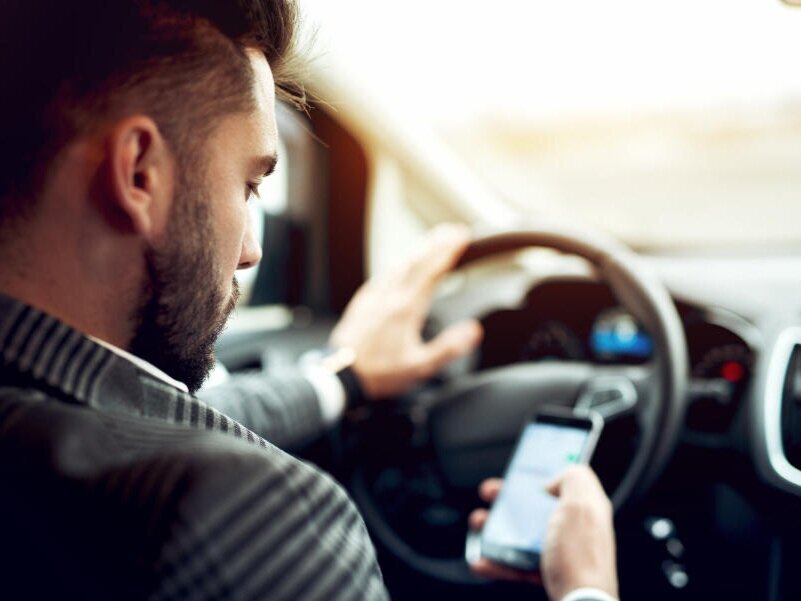 Whether it's checking your phone, reaching in the back seat, or checking the glove compartment in your vehicle, according to the Insurance Bureau of Canada, approximately 3 out of 4 drivers admit to displaying these behaviours and driving while distracted.
Distracted driving is a growing problem throughout New Brunswick and drastically increases the likelihood of an accident occurring. In fact, the New England Journal of Medicine found that newly licensed teen drivers were eight times more likely to get into an accident when dialing or reaching for their phone.
With 506 distracted driving tickets issued by New Brunswick RCMP in 2019, it is important that New Brunswick drivers learn the ins and outs of distracted driving to help make the roads safer for everyone.
What is distracted driving?
Distracted driving is often defined as occurring when a driver's attention strays from the act of driving while operating a motor vehicle. This can be for any number of reasons and leads to the driver failing to observe their entire driving environment. Such limitations in vision can be dangerous for everyone on the road.
Even straying your attention away from the road for four to six seconds is the equivalent of driving the length of a football field at 90 km/h with your eyes closed.
What are the penalties?
In 2010, New Brunswick amended its Motor Vehicle Act, making it illegal to make and take telephone calls while behind the wheel of a vehicle, unless using hands-free, single touch, or in the event of an emergency. Additionally, it is illegal to text or program a GPS system while driving, unless the display screen in your vehicle is built into the dashboard and allows these actions.
What happens if you are caught driving while distracted in New Brunswick? You get a $172.50 fine as well as the loss of 3 demerit points from your licence. As a result of the demerit point reduction, multiple distracted driving charges will result in the loss of driving privileges when regular drivers reach a total of 10 points lost (or 4 convictions).
The consequences are much steeper for newly licensed drivers, however. In New Brunswick, new drivers begin with only 4 points on their licence and build two additional points each year to a limit of 10 points. That means a newly licensed driver in their first year of driving can lose their licence after only two distracted driving charges.
Pull over instead
Taking the extra time to pull over, when and where it is safe to do so, sending your text and carrying on, or simply waiting until you reach your destination to send your text, can not only reduce your risk of an accident or injury, but could also save a life by making it safer for the thousands of other drivers on the New Brunswick roads every single day.
Whether it's texting, dialing a phone call, taking a video, or scrolling through social media, it isn't worth the potential damage, injuries, and legal troubles (including a lawsuit) that could be headed your way.
Request a
Free Consultation
MacGillivray Law is a personal injury law firm with offices in Nova Scotia, New Brunswick, and Newfoundland and Labrador. We serve clients all across Canada.
If you cannot travel to one of our offices, we will accommodate your circumstances and travel needs. We can provide a consultation by phone, Zoom, or FaceTime, or travel to meet you in your home when required.
If you would like to learn your legal options at no obligation, contact us today to set up a free consultation.