"The world is a mosaic of people and cultures. We have, over history, diminished certain cultures and I am working to regain our Migmaw culture."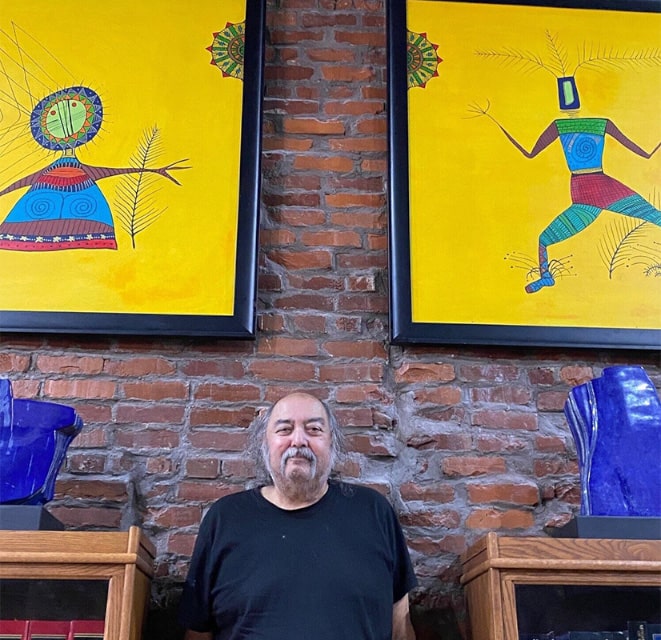 Drawing has always provided some form of comfort for renowned artist Alan Syliboy.
As a young child from Millbrook First Nations community, Syliboy was sent to a Catholic school where he was not permitted to communicate in his native language of Migmaw.
"I was always at a disadvantage," he recalls. "I wasn't allowed to speak the only language I knew, so drawing was really the only thing that got me through that period and continues to today."
Art has impacted every facet of Syliboy's life. He began with the usual landscapes and portraits, but it wasn't until the early 1970s when he was working with influential artist and activist Shirley Bear, an Order of Canada recipient, that he truly found his calling.
"Shirley found a book of petroglyphs and we decided from that point on, that would be the direction we were taking," explains Syliboy. "It changed everything, it's been my compass from that day on."
Syliboy never wanted to be influenced by other artists' work, he has a great appreciation for all artists, but tries not to get too close to the work so as not to inadvertently emulate it. With the petroglyphs in mind, he spent every day for 13 years painting and evolving his own, unique style.
And that it is, his artwork is world-renowned for its focus on Migmaw culture and the expression of traditions long past.
"There was precious little that remained from our culture," explains Syliboy. "I had to research and find all of our cultural assets that had been hidden or diminished over the years by the dominant society. It was difficult at first, but over time I found allies that would help me."
Syliboy says that for most artists, it's a very solitary, lonely path, but with the explosion of the internet and the ease with which people can connect and collaborate, he has found people who will assist him in his research and send him relics of his culture's past.
"It's uplifting to see that connection now in ways that were never before seen," says Syliboy.
Often Syliboy's pieces will begin with a tiny, minute detail, like a colour or a line, and after time, images and themes begin to take shape.
"Sometimes it takes someone else looking at my artwork to see the patterns or shapes emerging," he says. "My focus is often on balancing the image."
Throughout the years, Syliboy's artwork has taken him around the world with achievements like Little Thunder – a depiction of his artwork in motion – that was unveiled at the 2010 Vancouver Winter Olympics.
However, one of his most memorable pieces is a 7 x 96-foot mural he created, a legacy piece that was meant to stay in the figure skaters' practice rink; but ended up at the Trout Lake Community Hall because the community fought to have the piece, which he is so very appreciative of.
"Travel was good, I enjoyed it and gained a lot out of it, but I am grounded in where I am. This is my home; it always was and always will be."
Many of Syliboy's pieces reside at MacGillivray Injury and Insurance Law offices in both New Glasgow and Halifax for staff and clients to enjoy as they walk through the building.
The art reminds us all of the unique views and experiences that individual people carry with them each and every day.
"The world is a mosaic of people and cultures. We have, over history, diminished certain cultures and I am working to regain our Migmaw culture. Our culture is thriving now with new blood, it is energized with positivity from the younger generation which makes me so happy to see."
Request a
Free Consultation
MacGillivray Law is a personal injury law firm with offices in Nova Scotia, New Brunswick, and Newfoundland and Labrador. We serve clients all across Canada.
If you cannot travel to one of our offices, we will accommodate your circumstances and travel needs. We can provide a consultation by phone, Zoom, or FaceTime, or travel to meet you in your home when required.
If you would like to learn your legal options at no obligation, contact us today to set up a free consultation.