There are three types of extra-contractual damages that could be available in LTD claims. These are damages claimed in addition to the amount owed under the insurance policy.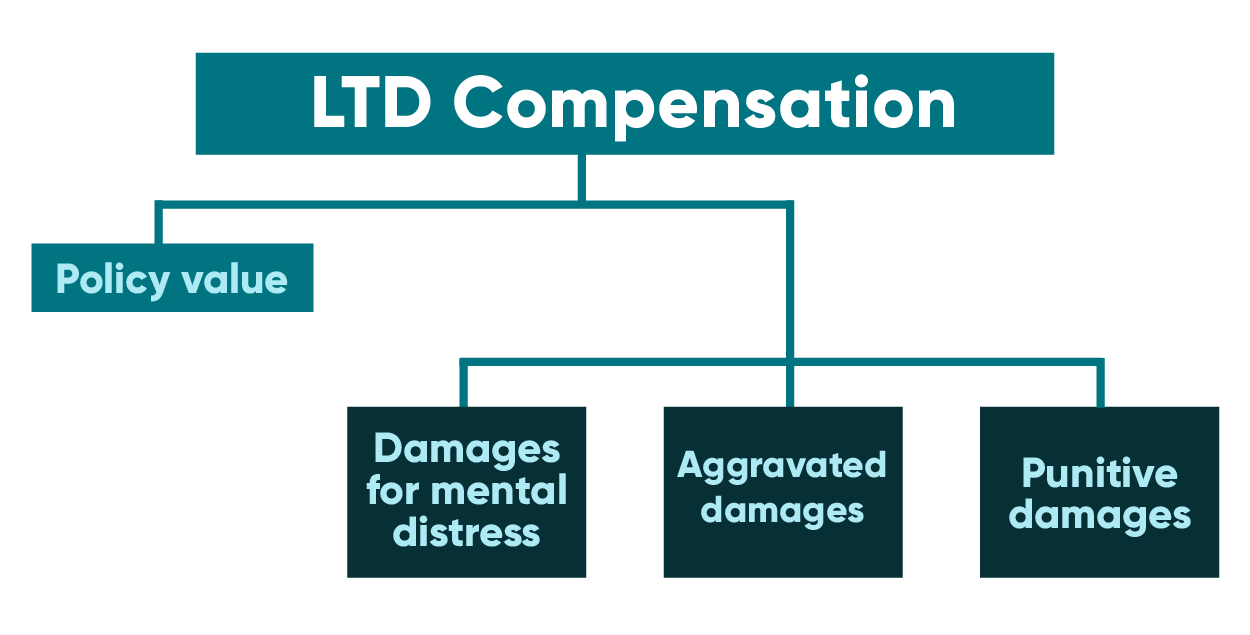 Damages for mental distress
Damages for mental distress are available for a breach of contract if:
The purpose of the contract was to provide peace of mind or a psychological benefit, breach of that contract would bring mental distress, and this was reasonably contemplated by the parties to the contract; and
The degree of mental suffering caused by the breach was sufficient to warrant compensation being owed.
Aggravated damages
Like damages for mental distress, aggravated damages are also compensatory in nature, meaning they are intended to compensate the insured for the wrong done to them. However, aggravated damages are distinct from damages for mental distress, and they arise where an insured can establish mental distress has arisen from an insurer's breach of the duty of good faith. These damages are less common than damages for mental distress in long-term disability claims.
Punitive damages
A final category of damages, and the most severe, is punitive damages. The purpose of punitive damages is to serve as a punishment for egregious or malicious conduct in the handling or denial of an insurance claim. These damages are not compensatory, and instead the amounts are based on what would deter insurance companies from engaging in these types of behaviours. However, punitive damage awards are still awarded to the insured.
If you have been denied LTD benefits, book a free consultation to determine if you are eligible for damages.
Case law
Some courts have confused the two types of compensatory damages in the past. The following case law summaries showcase the amounts of compensatory damages that have been awarded in the recent past in Canadian courts.
In Fidler v. Sun Life Assurance Co. of Canada, [2006] S.C.J. No. 30, the Supreme Court found that Mr. Fidler "genuinely suffered significant additional distress and discomfort arising out of the loss of disability coverage". The trial judge awarded $20,000.
In the matter of Asselstine v. Manufacturers Life Insurance Co., [2005] BCJ No. 1152, the BC Court of Appeal upheld the trial judge's award for aggravated damages of $35,000. Mr. Asselstine suffered increased anxiety, mental, emotional, and financial distress as a result of the rejection of his claim and appeals.
In Cross v. Canada Life Assurance Co., [2002] O.J. No. 293, the court found that the failure of the insurance company to process a disability claim on a timely basis constituted a separate actionable wrong. The Plaintiff suffered a great deal of anxiety and distress as a result of the delayed process. The court awarded $29,000 in aggravated damages.
The leading Nova Scotia case on aggravated damages is Industrial Alliance and Financial Services Inc. v. Brine, 2015 NSCA 104. The Court of Appeal awarded $90,000 in compensatory damages for mental distress caused by breach of contract, including the breaches of contractual duty of good faith.
In the Newfoundland case of Fowler v. Maritime Life Assurance Co., [2002] NJ No. 217, the insurance company breached its duty to take a reasonable, balanced approach to the interpretation of a contract sold as a 'peace of mind' income security insurance policy. Justice Adams awarded $75,000 in aggravated damages.
BOOK A FREE CONSULTATION
Have questions for our team?
Request a
Free Consultation
MacGillivray Law is a personal injury law firm with offices in Nova Scotia, New Brunswick, and Newfoundland and Labrador. We serve clients all across Canada.
If you cannot travel to one of our offices, we will accommodate your circumstances and travel needs. We can provide a consultation by phone, Zoom, or FaceTime, or travel to meet you in your home when required.
If you would like to learn your legal options at no obligation, contact us today to set up a free consultation.